That was the
6th HORSFORTH BEER & CIDER FESTIVAL 2014!
7th & 8th March 2014
The Horsforth Beer and Cider Festival just gets better and better.
The 2014 festival, again organised by volunteers from St Margaret's Church, was attended by almost 1700 people over the two days, the best attendance yet. The festival raised around £14,000 for church funds which helped us to pay for some of the unexpected large repair bills which came in during the year.
As usual the "house full" signs went up early on Friday evening, as St Margaret's Hall reached capacity, and again on Saturday afternoon. Our Twitter followers were able to keep up to date with what was happening inside and in the queue via our feed @hors4thbeerfest. And everyone got in, even if they had to queue for a few minutes until someone else left and made room inside the hall.
We continued to admit people well into Saturday evening as there was still a good selection of beer to choose from. The festival featured 67 different cask beers, in the main bar upstairs. Many of the beers were seasonal, from a mix of local breweries and breweries from across the UK. For those not sure which to choose we even designed three beer trails, showcasing beers brewed along the Tour de France route. We sold over 9,200 glasses of beer (4,600 pints). Hardly anything was left to pour away the next day when we cleared up the hall. Thanks for making our job easier!
We featured 20 different ciders, including several ciders new to the festival and the return of some old favourites. Over the two days our drinkers managed to get through over 2,100 glasses of cider (1050) pints. The Cider Bar was very popular, and filled up quickly each day. It was also the place where you could buy wine, for those who don't like beer or cider, and we sold about 100 glasses of that too.
Plenty of food was consumed to soak up the beer. Most of the food was home-made by volunteers from St Margaret's which meant there was a real variety on the specials board in the café. We also got through mega amounts of hot beef, pork and bacon sandwiches, and 100 portions of pie and peas each day, with the champion pork pies freshly made by Wilson's each morning.
Festival goers voted for the Beer of the Festival, and in 2014 there was a new winner!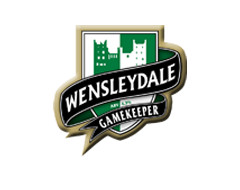 In first place Wensleydale Brewery, with its Gamekeeper Best Bitter

North Riding Brew Pub, our winner for the previous two years, came second and third in 2014 with its Mosaic and Bountiful beers.
Thanks to all those who helped in any way to make the festival happen.
| | |
| --- | --- |
| Main Sponsors: | |
| Main Bar: | Wharfe Bank Brewery |
| Festival glasses: | P Hall Plumbing and Building Services and Watts Planning |
| Staff T-shirts: | Pooky & Grumps |
| Cider Corner: | Cookridge Carpets |
| Entertainment stage: | Town Street Tavern |
| Tickets and vouchers: | Truly Scrummy |
| Thanks also to: | all who sponsored barrels and to our volunteer entertainers, front of house, catering and bar staff |
| The Festival Team: | |
| Beer: | Duncan Childs, Alastair Dawson, Zak Glover, John Hutton, Penny Hutton and Julian Kirkby |
| Entertainment: | Harlequin Live |
| Marketing/sponsorship: | Dennis Herbert |
| Finance: | Lesley Crann |
| Front of house: | Lucy Childs and Emma Speight |
| Publicity: | Tracey Wright |
| Displays: | Brian Husband |
| Telesales: | Dave Childs |
| Programme editor: | Derek Glover |
| Design and print: | "Covered" |
| Website editor: | Maggie Ware |
| Administration: | Rosemary Gaunt |
| Catering: | Diane Childs |
Final list of beers:
| | | | | | | | |
| --- | --- | --- | --- | --- | --- | --- | --- |
| Brewery | Location | Beer Name | ABV | Type | Tasting notes | Sponsor | Message |
| Abbeydale | Sheffield, S Yorks | Daily Bread | 3.8% | Copper | Classic copper coloured English bitter. | Stephens & Co | Proud to be a sponsor. Drink responsibly. Beer goggles not included. 07961 726 286. |
| Anarchy | Morpeth, Northumberland | Quiet Riot | 6.6% | Dk Gold | IPA, South Pacific hops, smooth & bitter, huge fruit flavours. | Horsforth Cricket Club | THE HOME OF CRICKET. |
| Arundel | Arundel, W. Sussex. | Stronghold | 4.7% | Chestnut | A very smooth, full-flavoured premium bitter. An excellent balance of malt, fruit & hops comes through in this rich, chestnut-coloured beer. | Tenet Group | Great Beer; you're here! For Great Insurance, Mortgage & Investment advice call O800 825 0825. |
| B&T | Shefford, Beds. | Mad Hatter | 4.3% | Copper | Brewed to celebrate the hat making tradition of Luton Malty, copper coloured beer with a hoppy nose. This Beer is brewed using Pearl Pale Malt, Crystal Malt, Wheat Malt, Amber Malt, Fuggle Hops & Golding Hops. | St Margaret's Social Events Group | Having fun & working for St Margaret's. |
| Bank Top | Bolton, Lancs. | Barley to Beer | 3.6% | Pale | A blend of English malt & Eastern Europian hops resulting in a pale bitter with a citrus lemon & herbal finish. | Bob & Carol Kirkby | Cheers! To another very successful year. |
| Bingley Beer Works | Bingley, W Yorks | Five Rise | 5.0% | Pale | Pale perfection, fragrant & fruity lovely bitter finish. | Headingley Hall | High quality care & luxury apartments for older people in Leeds. 0113 331 4834. |
| Bradfield | Sheffield, S. Yorks. | Irish Dexter | 4.8% | Red Mild | A deep red coloured ale malty, sweet flavour with a dry finish. | | Available for short breaks. Sleeps 4. Good for walking & fishing. Log fire. Good local pubs. 0113 258 0249. |
| Brecon Brewing | Brecon, Powys. | Six Beacons | 4.1% | Copper | A special brew for the Six Nations rugby tournament. A copper coloured session ale with a full character & plenty of body; slightly fruity yet seriously refreshing - a pleasure to tackle! | Design Fire Consultants | Fire Safety Design, Production of Fire Strategy Reports, Building Regulations Assistance & Fire Risk Assessments. 07834 977051. |
| Brentwood | Brentwood, Essex. | Marvellous Maple Mild | 3.7% | Red Mild | A deep red mild produced using pure Canadian maple syrup. Nutty roasted malts come through on the mouth leaving a sweet maple finish, with a light bitterness. | Norton Connor Solicitors | Your local professional legal practice, including wills, family, probate, conveyancing & commercial matters. 0113 239 0088. |
| Brown Cow | Selby, N Yorks | Captain Oates Mild | 4.5% | Dark Ruby | Brewed with a complex mix of malts & oats well balanced, coffee, chocolate full finish. | White Cross Ring Co | White Cross Rings, Metal Section & Tube Benders, Incorporating "Yorgrip" Aluminium Catwalks & Safety Platforms. 01274 669933. |
| Buntingford | Royston, Herts. | Mortimer's Army | 3.9% | Amber | Light copper coloured tasty session Ale. | Horsforth Towbar | We are happy to quote for all your towbar needs & vehicle servicing. 0113 258 7793. |
| Bushys | Douglas, Isle of Man. | Manx Bitter | 3.8% | Copper | An aroma of pale malt & hops introduces you to a beautifully hoppy bitter beer, despite the predominant hop character, malt is also evident, fresh & clean tasting. | Hatfield News | Your friendly local Newsagents on Long Row. Newspapers, Magazines, Tobabacco,Confectionary & Off-Licence. |
| Concrete Cow | Milton Keynes, Bucks. | Pail Ale | 3.7% | Straw | Straw coloured with a clean, crisp & refreshing light citrus & honeyed malt flavour & a thirst quenching, hoppy finish & aroma. | Dudleys Consulting Engineers | We make sure buildings stand up, sewers drain & roads go somewhere! 0113 258 3611. |
| Dark Star | Partridge Green, W Sussex | Hop Head | 3.8% | Pale | Pale gold, floral, big full hop flavours. | Country Mun Canine | Country Mun offers luxury custom made dog wear sent directly to your door. Follow us @ CountryMunDogs. 0191 603 0440. |
| Deverell | Grays, Essex. | Best Bitter | 3.6% | Copper | Copper coloured session beer. | J B Wilkinson | A traditional butcher selling only the finest in locally sourced meat. 0113 250 2126. |
| Elgoods | Wisbech, Cambs. | Spring Challenge | 3.7% | Pale | Spring Challenge is a very pale refreshing light colour beer. | Gordon English Landscaping Ltd | Proud to give its support to the Horsforth Beer Festival. 0113 258 6486. |
| Elland | Elland, W. Yorks | 1872 Porter | 6.5% | Dark | Rich, complex & dark porter from an original 1872 recipe, with an old port nose. Coffee & bitter chocolate flavours on the palate. Champion Beer of Great Britain 2013. | Norton Connor Solicitors | Your local professional legal practice, including wills, family, probate, conveyancing & commercial matters. 0113 239 0088. |
| Elland | Elland, W. Yorks | Nettle Thrasher | 4.4% | Copper | This is a copper coloured traditional strong ale, brewed using six different malts & robust flavours from the combined use of English hop varieties. | New Leaf Gardens | Best wishes to the Beer Festival from the garden designers at New Leaf Gardens. 07951 455 451. |
| Exe Valley | Silverton, Devon. | It's Phil's Ale | 4.8% | Deep Gold | A deep golden beer brewed with Devon malt & a zillion hop flavours from Cluster, Magnum, Bobke, Challenger & Citra hops. Brewed in 2014 to Celebrate the 30th Anniversary of Exe Valley brewery. | Horsforth Carpet Centre | 1st for quality, value & service in Horsforth for over 25 years! 0113 259 0464. |
| Hadrian & Border | Newcastle upon Tyne. | Coast to Coast | 4.4% | Amber | Light amber & hoppy beer with a nice malt balance. | Richard Crooks Partnership Architects | Richard & Hilary wish the 2014 Beer Festival a great success! 0113 281 8080. |
| Ha'penny | Ilford, Essex. | London Particular | 4.0% | Dark | Dark brown coloured beer with a slightly burnt treacle aftertaste. | Paul H Metcalfe | Paul H Metcalfe (Joiners & Contractors) Wish Horsforth Beer & Cider Festival 2014 every success. 07831 570 157. |
| Harrogate | Harrogate, N. Yorks | Harrogate Pale | 4.4% | Pale | Generously hopped, fruity & citrus. | BrassNeck Theatre | The Wedding Singer' 13th - 17th May 2014 Start 19.30. 0113 250 5011 or book online at www.brassnecktheatre.com |
| Ilkley | Ilkley, W Yorks | Ilkley Pale | 4.2% | Pale | A dry crisp pale ale. Strongly hopped to give a strong but mellow floral finish. Think classic NZ Sauvignon Blanc, reformed as an uncompromisingly refreshing & refined beer. | Englafot Construction | Englafot Construction Ltd is proud to sponsor, volunteer & drink at the Beer Festival. 0113 258 6111 or 07802 833518 |
| Kirkby Lonsdale | Kirkby Lonsdale, Lancs. | Ruskin's Bitter | 3.9% | Copper | Ruskins is brewed using the finest Maris Otter malted barley, complimented with Magnum & Brewers Gold hops to give a fruity & spicy characteristic with a lasting dry finish. | Hydrotec Consultants ltd | Cheers from Hydrotec. 0113 258 5941. |
| Kirkstall | Leeds, W. Yorks | Dissolution IPA | 5.0% | Amber | Delicious amber ale with a substantial hop kick. | Fayre by Alley | Purveyor of the unique Canadian 'Nanaimo Bar' which goes fantastically with real ales & ciders. 07749 130628. |
| Kirkstall | Leeds, W. Yorks | Generous George | 6.1% | Pale | An IPA brewed with 100% Polish hops. A tribute to a fine gentleman. | Fayre by Alley | Purveyor of the unique Canadian 'Nanaimo Bar' which goes fantastically with real ales & ciders. 07749 130628. |
| Mauldons | Sudbury, Suffolk. | Lemon Adder | 4.0% | Fruit | An amber coloured bitter with fresh citrus aromas that develop into a balanced fruity & refreshing dry bitter finish. | Bartlett Group | Bartlett Group is delighted to support the Horsforth Beer & Cider Festival 2014. 0113 258 5711. |
| McMullen | Hertford, Herts. | McMullen AK | 3.7% | Copper | Using a balanced mixture of pale ale & chocolate malts to give a soft malty taste while Whitbread Golding Variety hops give a light fragrant aroma & clean finish. A popular & refreshing easy-drinking bitter. | Jungle IT Ltd | IT made easy! Town Street, Horsforth. 0113 258 4433. |
| Naylors | Keighley, W.Yorks | Bitter | 3.8% | Copper | Cascade & Perle hops provide bitterness & delicate aromas, whilst pale malt & roasted barley give a pleasing copper colour to our BITTER, a real 'session' beer. | OptimHome.co.uk | Estate Agent. For all your Residential Property Transactions call Dawn Cramp 0113 259 1339. |
| Naylors | Keighley, W.Yorks | Cravenbrau | 3.8% | Pale | Cravenbrau is brewed using Mittlefruh hops from Germany, commonly found in lager. Light, mild, crisp & very easy drinking! | Bar 166 & Bistro | Proud to be part of the local community for over 10 years. www.bar166.co.uk |
| North Riding | Scarborough, N. Yorks | Bountiful | 4.5% | Dark | Coconut Mild. | Jordans Solicitors | Jordans Solicitors serves both businesses & individuals in a range of specialisms throughout West Yorkshire. 01924 387110. |
| North Riding | Scarborough, N. Yorks | Mosaic | 3.9% | Pale | Single hopped american pale ale with lots of citrus fruit flavours. | The Curtain Shop | Custom made curtains & blinds. Free measure & design. O113 258 7296. |
| North Yorkshire | Guisborough, N. Yorks. | Yorkshire Porter | 4.0% | Dark | A smooth well balanced porter with hints of chocolate malt flavour, with a rich creamy head & a slightly hoppy nose. | J & L Marshall | For all your building requirements Open to the trade & public. 0113 258 3463. |
| Oakleaf | Gosport, Hants. | Stokers Stout | 5.0% | Dark | This rich award winning stout has a strong chocolate & roasted coffee flavour with subtle burnt notes. | Kelly Williams | Kelly Williams are pleased to support the Horsforth Beer & Cider Festival. |
| Old Mill | Goole, E. Yorks. | March Mist | 4.0% | Copper | A balanced malty bitter with a refreshing hop aftertaste. | SMG Financial Services | SMG Financial Services are pleased to support the Horsforth Beer Festival. Contact Phil Dixon 0113 218 1115. |
| Old School | Warton, Lancs. | Detention | 4.1% | Straw | A clean, straw coloured light drinking bitter. This is a fully flavoured beer with floral aromas & a slightly dry finish. | Adair Paxton LLP | Adair Paxton, Property specialists: Mild charge, no bitter taste, stout service & Champagene standards. 0113 258 1150. |
| Osset | Ossett, W. Yorks | Summit | 4.0% | Pale | Brew No3 in our 2014 World Cup of Hops series. Pale in colour with a single hop variety, Summit Hops from the US. | Tenet Group | Great Beer; you're here! For Great Insurance, Mortgage & Investment advice call O800 825 0825. |
| Pennine | Beedale, N. Yorks. | Hair of the Dog | 3.9% | Blonde | Blonde in colour with a fresh fruit hoppy burst & a sweetish aftertaste that is refreshing to the palate. | The Old Kings Arms | Nearest pub to the Festival. Choice of Cask Ales. |
| Rat | Huddersfield, W. Yorks | Rat Bag | 3.8% | Pale | Intensely hoppy & resinous pale bitter. Made using four separate additions of English Challenger hops, & then dry-hopped as well! | Anon | Best wishes for another successful year! |
| Red Willow | Macclesfield, Cheshire | Wreckless | 4.8% | Pale | Massive tropical fruits taste, clean finish. | Pudsey Legal | Fresh legal services brewed locally. www.pudseylegal.com 0113 290 0380. |
| Ridgeside | Leeds, W. Yorks | Eclipse | 4.6% | Pale | A Refreshing pale ale packed with american & australian hops | Kinetic Corporate | Need assistance raising finance for your business? We can help. Call us today. 07968 112489. |
| Ridgeside | Leeds, W. Yorks | Long Way from Home | 4.1% | Dark | Smooth, creamy vanilla stout. | The Carroll Family | Best wishes for a successful Beer & Cider Festival. |
| Riverhead | Marsden, W. Yorks | Cherry Mild | 3.6% | Dark | A traditional mild brewed using real cherries. | Marjorie Pouch | Drink & Enjoy! |
| Saltaire | Saltaire, W. Yorks | Blackberry Cascade | 4.8% | Pale | An American style pale ale, hopped with Cascade & Centennia hops, infused with a hint of blackberries. | Poppies | Providing domestic services to the highest quality - regular, one-off & ironing. 0113 281 8191. |
| Saltaire | Saltaire, W. Yorks | Elderflower Blonde | 4.0% | Pale | A refreshing Blonde ale infused with the delicate flavour of elderflower. | Graham & Wendy Richardson | 30th Wedding Anniversary. |
| Settle | Settle, N. Yorks. | Signal Main Line | 3.6% | Golden | A golden IPA style beer. Refreshing, delicately fruity beer, it carries with it a little bit of sweetness, & just a hint of the promise of summer. | Horsforth Paving | Thinking of transforming your driveway or patio? For a free quote contact Horsforth Paving. 0800 389 3588. |
| Slater's | Eccleshall, Staffs. | Black IPA | 5.0% | Dark | A mix of six English & German malts provide the colour which is complemented by the popular American hop Cascade. | Subway Horsforth | Subway Horsforth opens on New Road Side in late March. For further details visit: www.subway60902.co.uk |
| Slightly Foxed | Sowerby Bridge, W Yorks | Howling Fox | 3.5% | Pale | Exceptionaly pale, full hop aromas, clean dry flavour. | Airedale Movers | Airedale Movers - contact us for a competitive quote for your removal or piano relocation. Cheers! 0113 258 2971. |
| Sonnet 43 | Coxhoe, Co. Durham. | Bourbon Milk Stout | 4.3% | Dark | Brewed using the finest ingredients. Bourbon, cocoa & oats give this dark beer a rich, full-bodied, chocolatey bitterness. | Brian & Rozel Daltrey | Good luck again for another successful festival. |
| St Georges | Malvern, Worcs. | Liquid Gold | 3.6% | Golden | A light golden coloured Ale brewed using English malt. The use of traditional hops give the beer a mellow floral hop aroma followed by a distinctive hoppy taste. | Lofthouse Gate Ltd | Lofhouse Gate are proud to be associated with the Horsforth Beer & Cider Festival. 01942 821111. |
| Stod Fold | Halifax, W. Yorks. | Stod Fold Pils | 4.8% | Pale | Lager malts & Hersbrucker hops combine to create the perfect crossover pint for both lager lovers & ale aficionados. | The Town Street Tavern | Your local haven for ale lovers. Good home cooked food & Belgian Beers. |
| Strathaven Ales | Lanarkshire. | Duchess Anne | 3.9% | Pale | A refreshing crisp ale using a blend of wheat & lager malts flavoured with fresh meadowsweet. Strathaven's effort to quench the thirst of ale drinkers without resorting to lager. | Senior & Rhodes | Raising our glasses to the Festival…but not our prices. Call in today for experienced, friendly service. 0113 258 0548. |
| Theakstons | Masham, N. Yorks | Cresset Ale | 4.0% | Lt Copper | Subtle overtones of orange & lemon zest with a hint of mango & gives a refreshing fruity flavour complemented by apple crispness. | Theakstons | Theakstons Brewery would like to wish St. Margaret's a successful festival. |
| Thornbridge | Bakewell, Derbyshire | Brock | 4.1% | Black | Exceptionaly smooth and creamy, full bodied stout. | Waite & Co | Taking the hangover headache out of moving house. 0113 239 0012. |
| Titanic | Burslem on Trent, Staffs. | Chocolate & Vanilla Stout | 4.5% | Dark | A genuine dry stout this beer offers a sweeter alternative, using Roast Barley & Maris Otter Pale Malt giving a rich body & English North down hops to create a bitter edge, the sweetness comes from the addition of Chocolate & Madagascan Vanilla. | J & M Ware | All the best for 2014! |
| Treboom | York, N Yorks | Kettle Drum | 4.3% | Copper | Best Bitter, distinctly fruity, robust hops, clean finish. | The Bridge | A traditional local, with a strong selection of cask ales & homemade food! 0113 258 7339. |
| Tring | Tring, Herts. | Moongazing | 4.2% | Red | All American Hopped - Amber/ruby hued ale has a well rounded bitterness with grapefruit, mango & peach hop characteristics imparted by Chinook & Citra. | Gabrielle & Robert Ibberson | Gabrielle, Robert & the Ibberson & Syme families - 'Good Health To All' & enjoy this brew. |
| TSA | Throsk, Stirlingshire. | Rock IPA | 4.0% | Golden | A new rambunctious golden IPA brimming with personality with fruity flavours & jaw dropping bitterness - distinctive & unforgettable. | Bar 166 & Bistro | Proud to be part of the local community for over 10 years. www.bar166.co.uk |
| Upham | Upham, Hants. | Punter | 4.0% | Copper | Rich ochre in colour, the beer is delicate yet structured with hints of syrup & toasted grain. The earthy richness on the palate brings with it a hoppy, dry finish. | Anon | Best wishes for the Festival. |
| Wensleydale | Leyburn, North Yorkshire | Gamekeeper | 4.3% | Lt Copper | Satisfying best bitter, huge spicy hop flavours with juicy malts. Well balanced. | Anon | Enjoy the Festival. |
| Wharfebank | Otley, W. Yorks | Brownlee Gold | 3.9% | Deep Gold | A deep golden ale, brewed with only English hops & malt, balanced but with a citrus fruit aroma. | The Brownlee Arms | Real Ales & fine wines. Food served all day from our locally sourced high quality seasonal menu. 0113 258 1608. |
| Wharfebank | Otley, W. Yorks | Bunny Hop | 4.3% | Pale | Easter Special, refreshing premium pale ale. | Wilsons Butchers | Sample our Award Winning pies at the festival. To see the rest of our quality food visit www.wilsonsbutchers.co.uk |
| Wharfebank | Otley, W. Yorks | Othelia Gold | 4.3% | Pale | Premium Golden Ale. | John & Peter Barnes | Organ builders, tuning, maintenance & restoration. 01535 642891. |
| Wharfebank | Otley, W. Yorks | Tether Blond | 3.8% | Pale | Session pale ale. | Hartley's Fish & Chips | Hartley's - your local family chippy - recently taken over & much improved - give us a try.07542 614637 |
| Wharfebank | Otley, W. Yorks | The Hawaiian | 5.5% | Dark | Coconut Milk Stout. | Ivory Dental Practice | Treating the local community for generations. For all your routine family & cosmetic needs. 0113 258 3349. |
| Williams Bros. | Alloa, Clacks. | March of the Penguins | 4.9% | Dk Mahogany | A warm dark mahogany coloured beer - Silky smooth with a fruity/spicy mouthfeel. | Towerwood Vets | www.towerwood.co.uk The finest pet care on tap! 0113 267 8419. |
| Wold Top | Driffield, N. Humberside | Spring Fling | 4.3% | Straw | An easy drinking straw coloured beer. Maris Otter & Willamette hops give the beer a crisp bitterness with a hint of citrus aroma. | | Available for short breaks. Sleeps 4. Good for walking & fishing. Log fire. Good local pubs. 0113 258 0249. |
Final list of Ciders
| | | | | | | |
| --- | --- | --- | --- | --- | --- | --- |
| Producer | Location | Cider | ABV | Type | Sponsor | Message |
| Ampleforth Abbey | N Yorkshire | Ampleforth Cider | 6.5% | Medium Cider | Meridian Security Systems | Horsforth's only retail Locksmiths & Alarm Installers. 0113 258 1538. |
| Ben Crossmans | Somerset | Dry Blended Cider | 6.0% | Dry Cider | Tenet Group | Great Cider; you're here! For Great Insurance, Mortgage & Investment advice call O800 825 0825. |
| Glastonbury | Somerset | GlastonBERRY Cider/Red Berries | 4.2% | Flavoured Cider - Red berries | Englafot Construction | Englafot Construction Ltd is proud to sponsor, volunteer & drink at the Beer Festival. 0113 258 6111 or 07802 833518 |
| Gwatkin | Herefordshire | Stoke Red SV Cider | 7.5% | Sweet Cider | Cookridge Carpets | The Horsforth Festival 2014 'Cider Bar' Sponsor. |
| Gwatkin | Herefordshire | Yarlington Mill Cider | 7.5% | Medium Cider | Watts Planning | We specialise in the submission and management of Planning Applications and Appeals. 07970 711548. |
| Gwatkin | Herefordshire | Silly Ewe Cider | 4.5% | Dry Cider | Wilsons Butchers | Sample our Award Winning pies at the festival. To see the rest of our quality food visit www.wilsonsbutchers.co.uk |
| Gwynt y Ddraig | South Wales | Black Dragon Cider | 7.2% | Dry Cider | Pooky & Grumps | Delecatessen - for a taste of Yorkshire & more! |
| Gwynt y Ddraig | South Wales | Firey Fox Cider | 6.5% | Medium Cider | Norton Connor Solicitors | Your local professional legal practice, including wills, family, probate, conveyancing & commercial matters. 0113 239 0088. |
| Gwynt y Ddraig | South Wales | Pyder Apples and Pears | 6.0% | Perry | Kelly Williams | Kelly Williams are pleased to support the Horsforth Beer & Cider Festival. |
| Hecks | Somerset | Hangdown SV Cider | 6.5% | Sweet Cider | Phillip Hall | Plumbing & Building serivice. Specialists in Kitchens & Bathrooms. 07946 463682. |
| Millwhites | Hertfordshire | Rum Cask Cider | 7.5% | Medium Cider | The Old Kings Arms | Nearest pub to the Festival. Choice of Cask Ales. |
| Millwhites | Hertfordshire | Hedge Cider | 4.8% | Medium Cider | Covered Magazine | The Magazine that delivers! To advertise call 0113 274 5639. |
| Millwhites | Hertfordshire | Apples and Pears | 5.0% | Perry | The Town Street Tavern | Your local haven for ale lovers. Good home cooked food & Belgian Beers. |
| Moles | Wiltshire | Black Rat Premium Perry | 7.5% | Perry | Richard Crooks Partnership Architects | Richard & Hilary wish the 2014 Beer Festival a great success! 0113 281 8080. |
| Mr Whiteheads | Hampshire | Pear Light Perry | 3.8% | Perry | Hydrotec Consultants ltd | Cheers from Hydrotec. 0113 258 5941. |
| Mr Whiteheads | Hampshire | Equinox Cider | 4.5% | Medium Cider | Harlequinlive | Once again proudly providing the music for the Horsforth Festival. Visit us for further details at www. Harleqinlive.com |
| Mr Whiteheads | Hampshire | Strawberry Cider | 4.0% | Flavoured Cider - Strawberry | Fayre by Alley | Purveyor of the unique Canadian 'Nanaimo Bar' which goes fantastically with real ales & ciders. 07749 130628. |
| Newton Court | Herefordshire | Autumn Harvest Cider | 6.0% | Sweet Cider | Ros & Malcom Wright | Wish the 6th Horsforth Beer & Cider Festival every success! |
| Premium Drinks | W Yorkshire | Passion Fruit Perry | 7.3% | Flavoured Perry - Passion Fruit | Bar 166 & Bistro | Proud to be part of the local community for over 10 years. www.bar166.co.uk |
| Premium Drinks | W Yorkshire | Raspberry Cider | 7.3% | Flavoured Cider - Raspberry | The Courtyard Café | Providing a nurturing workplace for those with learning disabilities to develop new skills. Town Street, Horsforth. |
| Sandford Orchards | Devon | Cider Ginger | 4.0% | Flavoured Cider - Ginger | Horsforth Towbar | We are happy to quote for all your towbar needs & vehicle servicing. 0113 258 7793. |
| Westcroft | Somerset | Janets Jungle Juice Medium Cider | 6.0% | Medium Cider | Meridian Security Systems | Horsforth's only retail Locksmiths & Alarm Installers. 0113 258 1538. |
| Westons | Hertfordshire | Family Reserve | 5.0% | Sweet Cider | Manning Stainton | Award winning Estate Agents! Our team of Property Professionals are ready to help you move! 0113 258 2657. |
| Wilcox | Somerset | Sweet Blended Cider | 6.5% | Sweet Cider | St. Margaret's Hall | To hire any of the rooms in this venue please conatct: 07530 892156. |