Horsforth Beer Festival on Friday and Saturday, 27th and 28th March 2009 organised by St Margaret's Church for its Building the Future appeal, was a resounding success.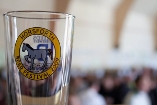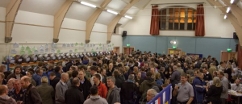 Over 1200 people attended over the two days. On Friday evening we reached the limit on the number of people in the hall. Queues built up round the building and some of our priority ticket holders struggled to get through, but everyone got in eventually. On Saturday evening beer stocks were running low and we stopped letting people in as there wasn't the choice of beers available. We had to disappoint some latecomers, and turn them away, and the few who had bought tickets in advance had their money refunded. We apologise to those who were disappointed.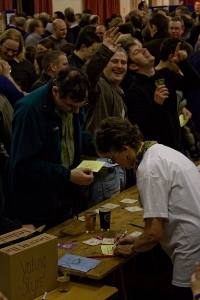 We'd like to thank the local community for supporting the beer festival, both in sponsoring the event and turning up. All our sponsors were local, and the vast majority were from Horsforth. We understand that the local economy also benefited from the festival, particularly many bars and pubs in the village who had increased numbers of customers when the festival was on.

We started the festival with 441 gallons of beer - and ended up with approximately 9 left at the end of the event. We also had 30 gallons of cider which was all drunk.
The beer of the festival voted for by those attending was "Dog Collar" from the Dicky Ticker Brewery
Our thanks go to:
Glass sponsors:

Leeds Brewery and Martin and Co

Staff T-shirt sponsor:

Hydrotech

Ticket sellers:

Abbey Inn, Town Street Tavern, and Queen's Arms


All programme advertisers and barrel sponsors


The Festival Team:




Beer:

Ian Cowling and Penny Hutton, The Old Bear Brewery

Entertainment:

Martin Lockett, The Abbey Inn

Food:

Big Butties, Knaresborough

Marketing:

Dennis Herbert

Sponsorship:

Lucy Childs

Finance:

Lesley Cran

Ticket sales:

Tracey Wright

Displays:

Brian Husband

Programme editor:

Derek Glover

Website editor:

Maggie Ware

Administration:

Diane Childs


Greta Earnshaw


Rosemary Gaunt


Special thanks to Garth from Town Street Tavern for his help with sponsorship and ticket sales



And to our entertainers, front of house and bar staff,



And to all those who came!
Click here to download the Press Release for 02/02/2009 (Word document)
A reminder of the 2009 beers:
Brewery
Town
Beers
Colour
Tasting notes
ABV
North Yorkshire
Pinchinthorpe, Guisborough
Archbishop Lee's Ruby Ale
ruby
rich malty overtones with a dry finish
4.0
North Yorkshire
Pinchinthorpe, Guisborough
Lord Lees
reddish brown
A refreshing red/brown beer with a hoppy aroma. The flavour is a pleasant balance of roast malt and sweetness that predominates over hops. The malty, bitter finish develops slowly
4.7
Howard Town
Glossop,
Derbyshire
Monks Gold
golden
hoppy beer made wth 4 hops 2 of which are crystal and piooner
4.0
Old Bear
-
Resurrection
light ruby
strong malty warming ale with a bitter mouth and a sweet after taste
4.4
Dicky Ticker
Pessthead, Spokedfund
Dog Collar
dark bronze
new beer tasting to be done at the beer festival
4.8
Dicky Ticker
Pessthead, Spokedfund
Dennis the Menace warden
amber
new beer tasting to be done at the beer festival
3.7
Abbeydale
Sheffield
Absolution
pale
fruity ale deceptively drinkable for its strength sweet finish
5.3
Abbeydale
Sheffield
Daily Bread
light bronze
good wholesome beer
3.8
Abbeydale
Sheffield
Brimstone
russet
bitter beer with hoppy aroma
3.9
Abbeydale
Sheffield
Last Rights
Pale
Strong barley wine!
11
Abbeydale
Sheffield
Matins
pale
full flavoured hoppy beer
3.6
Storyteller
Terrington
Genesis
Copper
beer to start with easy drinking
3.8
Fernandes
Ossett
Kirkgate
Copper
nothing like the market?
3.8
Anglo Dutch
Dewsbury
Ghost on the Rim
pale
dry and fruity
4.5
Hexhamshire
Hexham
Devil's Water
Copper
best bitter well balanced with a slighty fruity hoppy finish
4.1
Hexhamshire
Hexham
Devil's Elbow
amber
A brew full of hops and fruit leading to a bitter finish
3.6
Cropton
Pickering
Monkman's Slaughter
Dark Bronze
Rich tasting and warming. Fruit and malt in the aroma. Subtle bitterness in aftertaste
6
3 Rivers
Cheshire
Fathers Favourite
light amber
hints of coffee and caramel with a spicy finish
4.5
3 Rivers
Cheshire
Pilgrims Progress




4.2
Old Spot
Cullingworth
Down the Aisle
Copper
Not for the nervous!
4
Northern Brewing Co
Cheshire
Soul Rider
Straw blonde
Fruiy session beer
4
Northern Brewing Co
Cheshire
Soul Master
Golden
Citrus and spicy
4.4
Great Heck


Bloomin' Heck
amber
best bitter with plenty of pilgrim hops
4.2
Great Heck


Golden Fleece
pale
good session beer with a handful of roasted malt
3.8
Cambrinus


St Anthony's Ale
TBA
TBA
5.20
Cambrinus


Deliverance
Pale
premium bitter
4.20
Goose Eye
Keighley
H'ale'o
Straw
hoppy beer with citrussy overtones
4.20
Springhead
Nottingham
Charlie's Angel
Pale golden
fruity aroma and flavour leading to a bitter finish
4.40
Springhead


Puritan's Porter
Dark
TBA
4.00
Darwin
Sunderland
Natural Selection
IPA
TBA
5.00
Leeds
Leeds
Midnight Bell
Ruby Red
full on malty dark beer
4.80
Leadmills
Derbyshire
Ghost Rider
TBA
TBA
5.40
Leadmills
Derbyshire
Retribution
TBA
TBA
5.00
Leatherbriches
Derbyshire
Ulysses
light copper
dry bitter finish
4.40
Clarks
Wakefield
No Angel
Pale Brown
Bitter with a dry hop finish
4.00
Empire
Slaithwaite
Crusader
Light golden
Pine lemon citrus hoppy nose
5.00
Malliningsons
Huddersfield
Temptation
TBA
TBA
4.00
Salamander
Bradford
Flying Buttress
Pale
fruity hoppy complex aftertaste
4.80
Spire
Chesterfield
Overture
Light amber
trad ale smooth quaffing ale
3.90
Summer wine
Holmfirth
Ale Caesar!
Pale Blonde
pale ale with orange citrus with a rounded hoppy finish
4.40